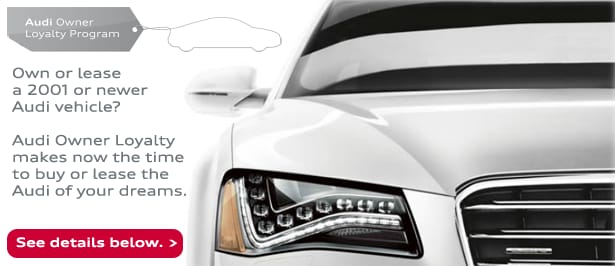 Discover special loyalty offers for owners and lessees
If you are considering a new Audi vehicle, now is the perfect opportunity. We are pleased to announce a comprehensive Audi Owner Loyalty incentive for returning Audi customers or household members that currently own or lease any model year 2001 or newer Audi vehicle. Based on which 2013 or 2014 Audi model you choose, this loyalty offer extends $750-$3,000 toward the lease or purchase of your next Audi vehicle.*
| | | |
| --- | --- | --- |
| Eligible MY | Eligible Model | Incentive |
|  2013, 2014 |  A4 & S4 Sedan |  $1,000* |
|  2013, 2014 |  A5, S5 & RS5 Coupe |  $1,000* |
|  2013, 2014 |  A5 & S5, & RS5 Cabriolet |  $1,000* |
|  2013, 2014 |  allroad |  $1,000* |
|  2013, 2014 |  A6 (includes TDI) & S6 |  $1,500* |
|  2013 |  A7 (includes TDI), S7 |  $1,500* |
|  2014 |  RS7 |  $1,500 |
|  2013, 2014 |  A8 (includes TDI) & S8    |  $3,000* |
|  2013    |  TT RS Coupe |  $1,000* |
|  2013, 2014 |  TT, TTS Coupe |  $1,000* |
|  2013, 2014 |  TT & TTS Roadster |  $1,000* |
|  2013, 2014 |  Q5 (includes TDI) |  $1,000* |
|  2014 |  SQ5 |  $1,000* |
|  2013, 2014 |  Q7 (includes TDI) |  $1,500* |
As a current Audi owner, you are well aware of the Audi commitment to progress in performance, design, safety and luxury. When you choose to test drive a new Audi vehicle, you'll find even more to discover.
Contact Audi Henderson
today for more information on these special loyalty offers, or to schedule a test drive. These offers are available until January 7, 2014 for eligible models. Don't miss your chance to take advantage of this impressive opportunity.